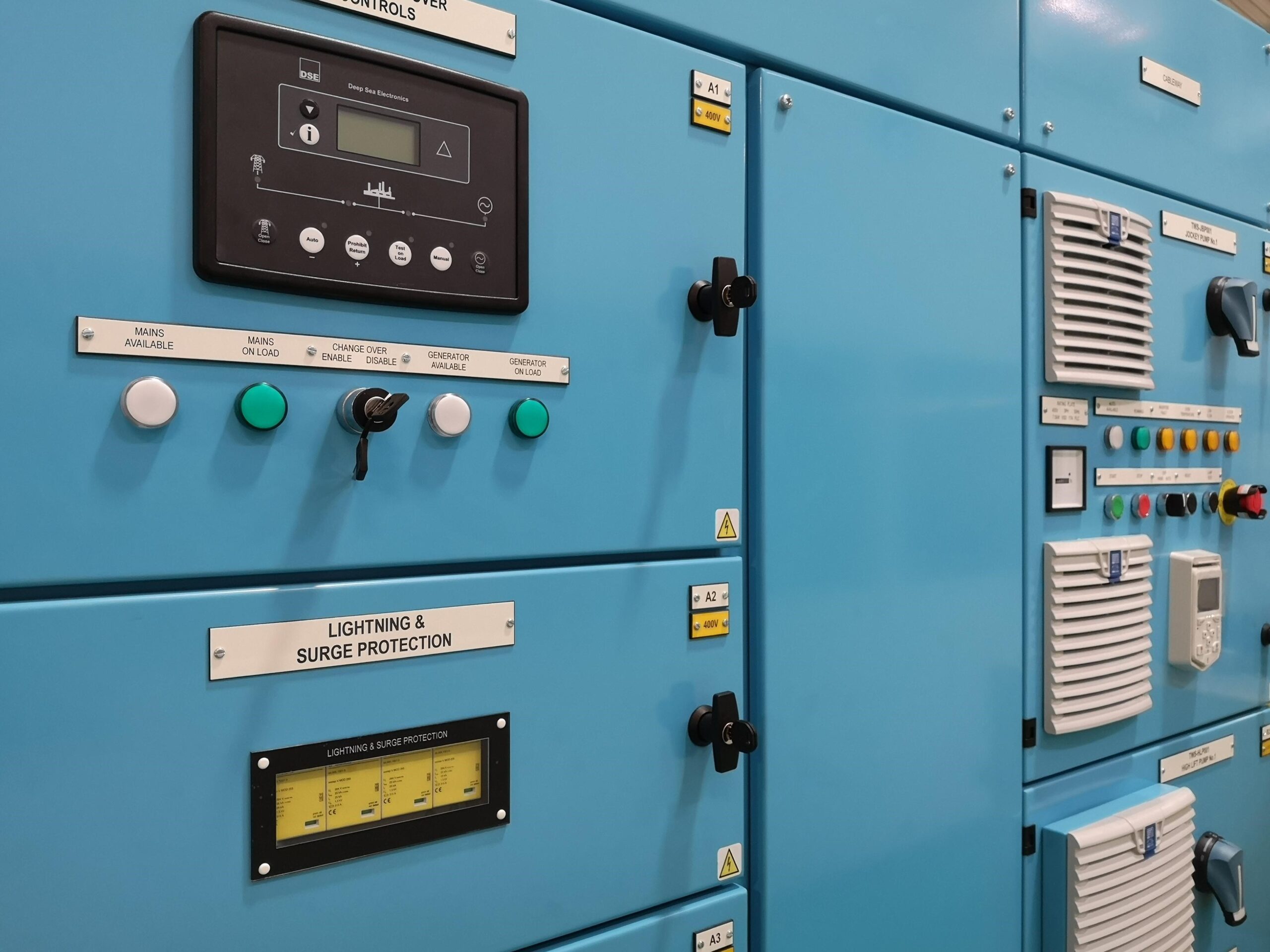 Motor Control Centres
Armah Switchgear Ltd are market leaders in the design and manufacture of custom built Electrical Control Panels and Motor Control Centres (MCCs) within the Water, Wastewater Treatment, and Waste-to-Energy industry.  We work closely with nationwide water companies at all stages of product design, manufacture, installation and commissioning to ensure all requirements are met.
Motor Control Centre general specification;
Forms of separation which typically include 2, 3 & 4, Types 2 to 7
Ratings from 400A to 6300A
Bespoke design to meet client specification
Conventional or Intelligent Options
Option to integrate and extend existing MCCs
Customised layout configurations such as Straight, "L", "T", "U" and rectangular shaped configurations
Back to Back Construction
Front & Rear Access
Top & Bottom Cable Entry
Fully welded mild steel, stainless steel or GRP construction
Ingress Protection (IP Rating) to requirement
Powder Coating in RAL and BS colour options
Fully design verified arrangements to BS EN 61439-2
ASTA/KEMA certified fault ratings of 20kA for 1s, 50kA for 1s, 50kA for 3s, 80kA for 1s, and more
Complete with CE Marking
Switchboards & Distribution
Armah Switchgear Ltd have designed and manufactured LV Switchgear for 30 years, enabling the distribution of power throughout a wide range of building types, and serving industries including Data Centres, Banks, Schools, Hospitals, Offices and Renewable Energy throughout the UK, Ireland and Europe.
We have gained and maintained a reputation for exceptional build quality, customer service, speed and aftersales service, which sees clients return to Armah for new projects with the re-assurance of Armah quality.
All switchboard designs verified to BS EN 61439-2 by ASTA/KEMA from 400A up to 6300A;
Manufactured to BS EN 61439-2
Front and rear access designs, suitable for top or bottom entry cables
Flexible design constructions such as L-Shape, U Shape and Back-to-Back arrangements
Standard paint finish using RAL and BS options
Ingress Protection (IP Rating) to requirement
Comprehensive range of functional units such as ACBs, MCCBs and Fuse Switches. ACB's / MCCB's are available in fixed, drawout or plug-in patterns
Built-in Lighting & Surge protection
Internal power factor correction or external
Regional DNO CT Chambers to various specifications
Extensive range of Smart and MID Approved fiscal metering options, with provision for data connection points
Fully welded and modular sheet steel construction cubicles available
Provisions for thermal imaging ports and intelligent predictive maintenance communications
Test points to ensure operative safety when carrying out routine and live-testing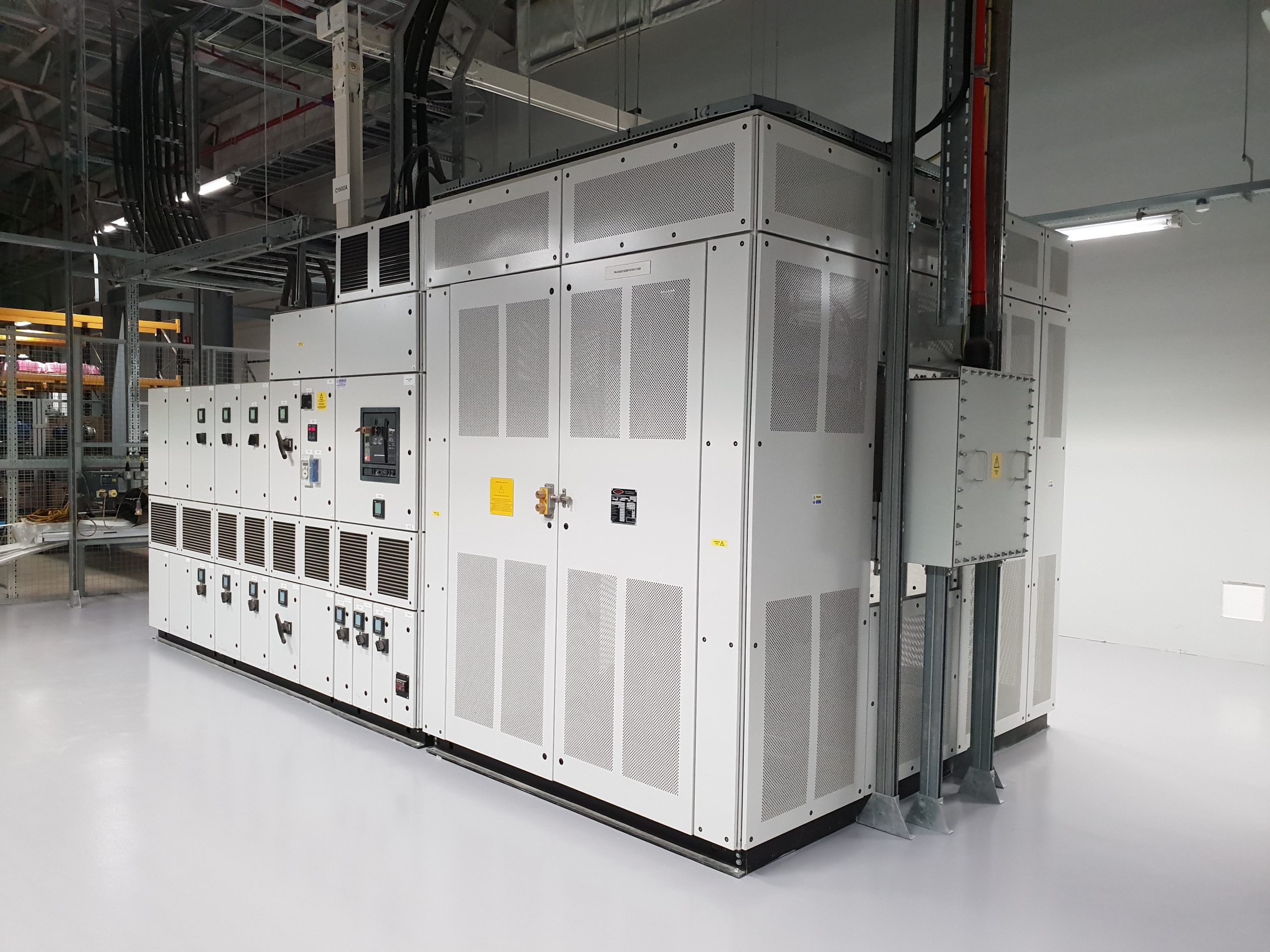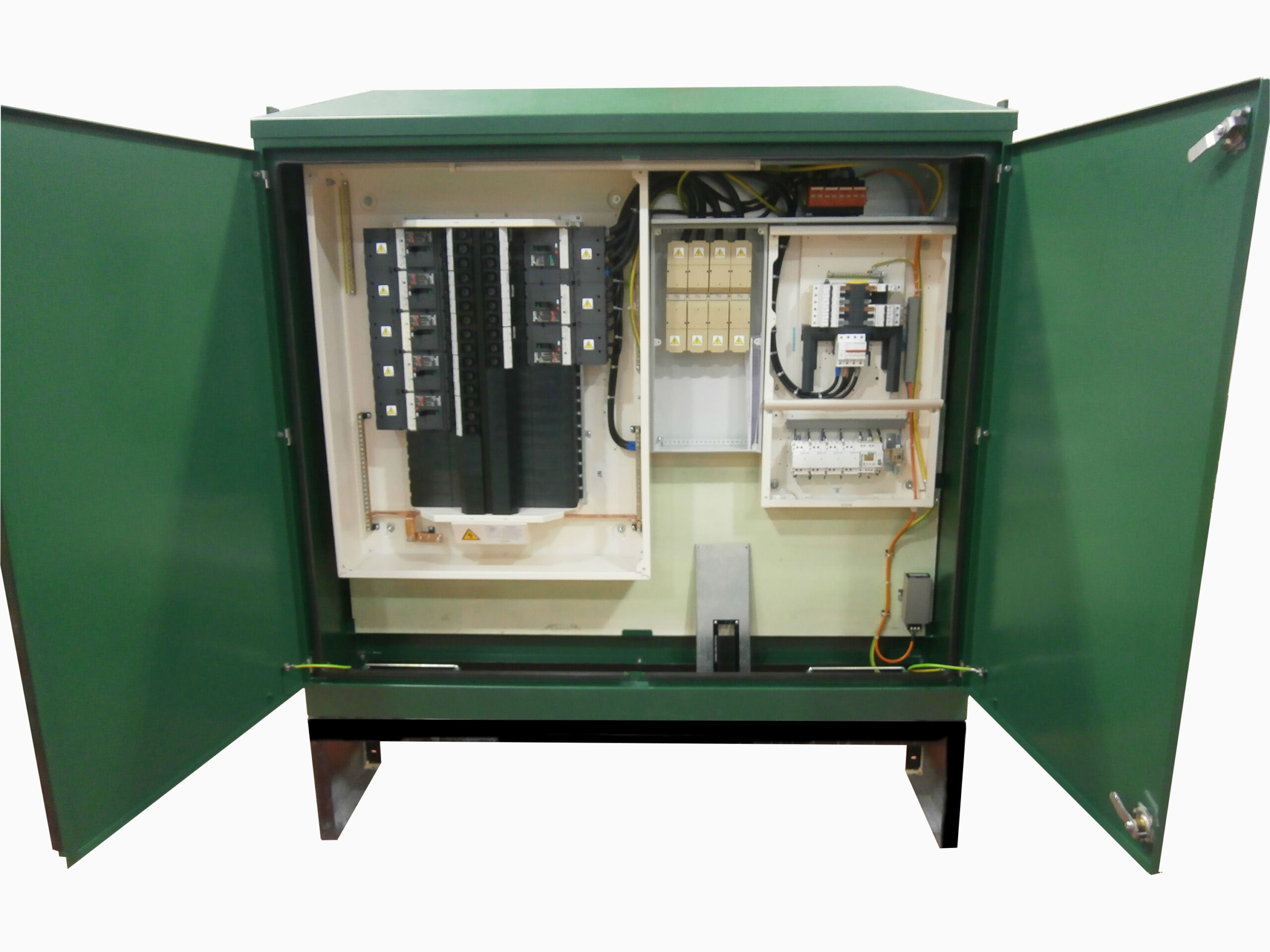 Feeder Pillars
Cast iron or 3mm and 5mm galvanised steel Pillars incorporating vandal proof locks, Integral Distribution Boards with contactors and photo electric controls. Approved to Department for Transport (DfT) and Ministry of Defence (MoD) standards.
The feeder pillars are designed for increased weather and security protection. Because of the robust and durable construction, the feeder pillars are not just ideal for street lighting but are used within extreme physical and terrain conditions.
Fabricated from various thicknesses for material, including standard 3mm and 5mm
Various material options, such as mild steel, stainless steel and galvanised steel, with paint grade to suit environment
18mm thick exterior grade ply backboard, treated with anti-fungicidal wood preservative, including marine and fire rated options
Pillar door hinged using internal heavy-duty hinges.
Earth strap fitted to pillar and door.
Fitted with heavy-duty stainless steel locks, with cover and security screw cap
Door stay mechanism
Fitted with a detachable root section, open to front for easy cable entry
Ingress Protection (IP Rating) to requirement
Modular Panelboard
Designed and built to BS EN 61439-2, our modular panel board range compliments our bespoke primary and sub-switchboard offerings.
These panelboards can be utilised as both main and sub-switchboards and have the following features:
Incoming devices from 250Amperes to 1600A
Outgoing ciruits rated up to 630A
Three-phase capacity for 6-way to 36-way
Forms and Types of segration up to Form 4b Type 6
Cable access and egress from above, below or side options available with aluminium gland plates
Live-side fuse switches available for connection to life-safety systems
Full range of Smart and MID Approved fiscal metering available
Provision for thermal imaging and intelligent predictive maintenance systems on request
Can be configured in free-standing or wall-mounting arrangements
Custom paint finished available on request
Front access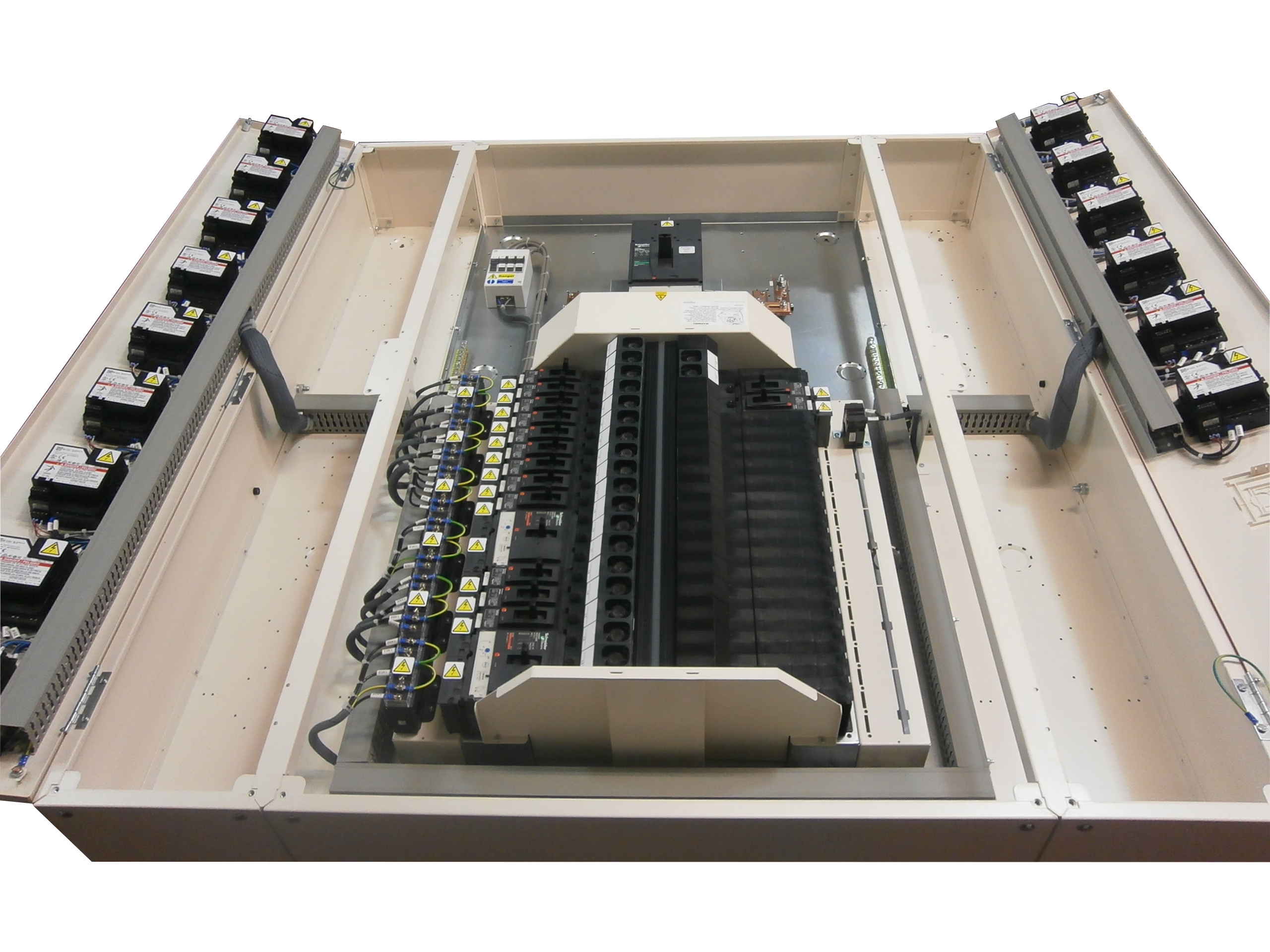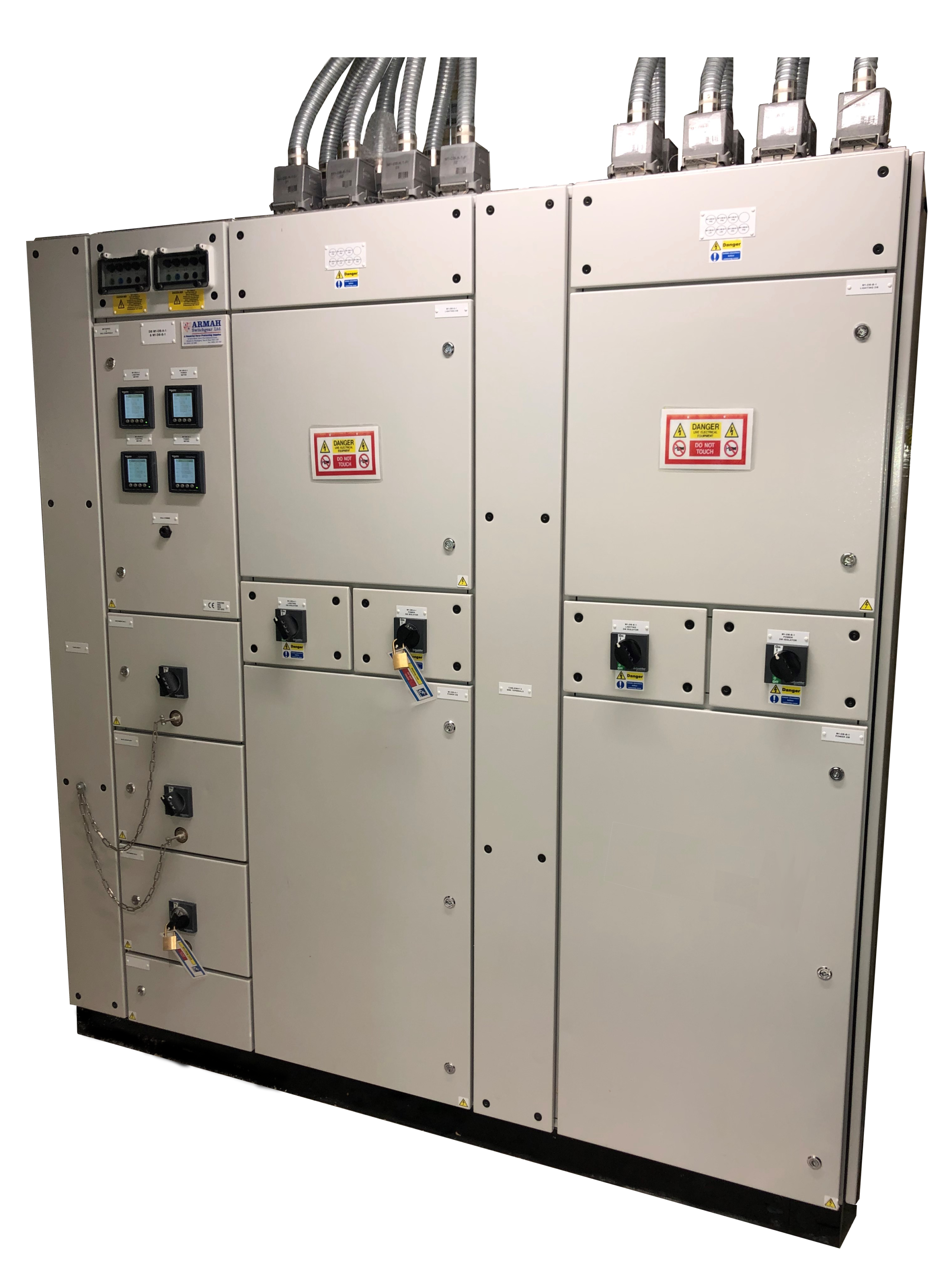 Modular Distribution Boards
These Distribution Boards are designed to fit in to Risers or corridor cupboards on projects using modular wiring techniques such as Prisons, Hospitals & Schools that have multiple rooms with similar operational requirements. They can comprise multiple totally segregated Distribution Boards of various sizes up to 24 way TP&N, and control systems such as DALI lighting systems. Each Distribution Board can have a segregated isolator or protection device in a separate compartment ensuring a totally isolated Distribution Board compartments for maintenance & commissioning purposes and safe operator use by ordinary persons (DBO). All the incoming supplies can be metered with data points for remote monitoring and surge protection if required, and can include integral automatic or manual changeover.
Fully assembled & tested product delivered to site for immediate connection to the system
Top or Bottom installed connectors of various manufacturers products to meet site requirements
Full factory BSI Registered quality control system ensuring the products work first time saving commissioning time
Various top brand equipment such as;- Schneider, Eaton, ABB, Terasaki etc.
Supply A + B configurations with automatic or manual interlock changeover and bus coupled switching.
All compartments can have lockable doors for extra security, glazed Distribution compartment doors are an option
Utilising a fully Modular, internationally certified cubicle system, allowing various dimensions to meet site size requirements.
Delivery and installation by our fully trained and qualified personnel using proprietary lift and shift certified equipment to site approved Risk and Method statements to all floor heights.
This product helps reduce site labour considerably and the Supervision, HSE, Commissioning etc that this entails.
No need for site storage of large quantities of Distribution Boards and associated equipment and the security issues this requires.
Traditional Distribution Boards
Designed and built to BSEN 61439-2 to compliment the full range of our standard panelboard arrangements.
Fully type tested conditional short circuit rating of 25kA to BS EN 61439-3.
High performance MCB 10kA BS EN 60898 15kA BS EN 60947-2 in B, C or D curve 1, 2, 3, 4 pole.
250A busbar rating.
Isobar disconnection to BS EN 60947-3 ensuring unused outgoing ways are isolated.
Option of switching outgoing neutral on all boards using distributed neutral kit.
Terminal block for feeding up to 100A.
Range of incomers: switch disconnectors, residual current devices, terminal blocks, MCCB.
Single pole RCBO for new or retrofit maintaining device density.
Full range of device accessories and auxiliaries.
Knockouts for cable gland and conduit mixed to suit the installation needs without loss of space.
Removable insulated pan assembly.
Fully shrouded neutral.
Split neutral bars.
Removable gland plates.
Optional metering, dual supply, surge protection and contactor on incoming Metered / Lighting & Power Split-Metered extension enclosures.